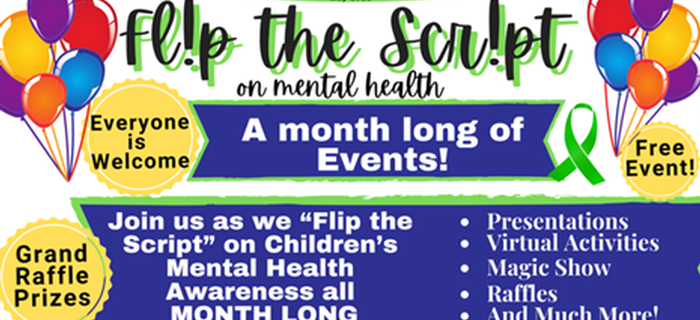 It is with great excitement we invite you along with the entire community to celebrate 31 minutes a day of 31 days in the Month of May to "Flip the Script" on Children's Mental Health!
These activities/events are brought to you by the following county partners: Coordinated Family Care, Middlesex County Mobile Response & Stabilization Services, The Family Support Organization of Middlesex County, Mobile Family Success Center, Harmony Family Success Center, Bayside Family Success, and Greenway Family Success Center.
Every day in May, we are dedicating 31 minutes to wellness of all kinds: Mindy, Body, and Soul. Please see registration information/instructions below.
Here is what to expect – Registration is completed via Eventbrite….all scheduled events are FREE! (BE SURE TO DOWNLOAD THE EVENTBRITE APP ON YOUR MOBILE DEVICE – ADD ALL THE EVENTS TO YOUR CALENDAR AS PART OF THE REGISTRATION!
Activities are a mixture of Live Zoom (these are available via the link on Eventbrite at the specific time listed on the ticket) and Pre-Recorded Events (these are available via the link on Eventbrite all day on that day to view for your convenience), along with You Tube Videos, Power Point Presentations – with embedded links, etc.

The Kick Off Event is on 5/3/21

…

this is the first Live Event of many throughout the month

.

(Don't

forget the activities planned on 5/1 & 5/2!

These are self-instructed

).

The tickets emailed to you will include the link for each activity.

Please use the email address you register with that best suits your role for the activities: professional vs personal. Use the same email account for the entire month. This way we can track registrants and you can find all the information in one place. Pass the same word along to all those in your agency, or friends and family.

All are welcome and STRONGLY encouraged to attend!

The more events attended the GREATER the possibility of being a Grand Prize winner at the Finale on 5/26/21 (Don't forget the activities from 5/27 to 5/31 as well)! Attend as many as you can!
Here is the Eventbrite link. Ready, Set, Go!!! Invite AWAY!!!
https://cmha2021.eventbrite.com
Don't forget to check all our the System Partner social media sites, like, share, and comment! We will be sending more information out continuously as May gets closer…Don't worry you won't be able to forget about it for a second!